Though I don't know—I know gold stocks, having under-performed the metal will return to stronger pricing like 2010. The question is when and where can I see signals that help my timing.
The Seeking Alpha article by Bruce Pile below attempts to do just that. Personally I am not trying to time the market but as I believe quite strongly that the opportunity is real I am already positioned and will look to add more as I am able and I plan to trade the up cycle once the trend change is confirmed.
G
Gold Stocks Are Ready to Reignite
by Bruce Pile
Investors seem to be fretting about a weakening recovery as the numbers continue to disappoint and stocks are showing signs of fizzling. And then there's the looming end of QE, a huge fuel source for money going into the stock market. So what's a gold fan to do regarding gold and silver stocks? There is a school of thought that says all "risk-on" speculation positions are vulnerable. And that includes miners of anything - even gold, and especially silver with its heavy industrial use. Gold stocks have been a dog lately, so is now the time to sell or buy?
Some instructive comparison can perhaps be drawn by looking at the last time we had an obvious slowing economy coming at us. This was over the last half of 2007. So how did gold and silver and the associated stocks behave in '07 as the weak economy started taking hold?
First, let's look at how well the discounting of the market was working during this period by looking at Dr. Copper, the commodity with the PhD in economics:

Here we see that the doctor was right in seeing the approaching recession coming as usual. The key 140/200 day ema (blue and red lines) broke out of its bull mode with collapsing divergence in November. So if you had the same angst about all economy sensitive commodities, you perhaps would have been a seller of silver at this time with its usage being primarily industrial. Gold during this period moved up sharply. So silver had a choice to either follow its monetary partner, gold, with a historical R squared correlation of something like 0.9, or to follow its economic partner, copper. Which did it do? Here is the silver chart for that period: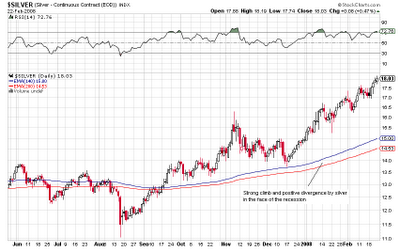 Read full article here