Another point on this wagon that appears to be in for a ride... a point of view that has a technical spot light: the S&P TSX Venture Composite Index (CDNX)
The Index looking like its definitely come off the bottom and broke the down trend that ran for most of last year. For the careful: wait for the confirmation that the down trend is officially over. Or put on a little risk and start accumulation your favorite targets. I believe the index will trade a little sideways for a bit yet perhaps waiting for the golden cross formation.
I haven't waited. I don't believe we get many opportunities like this and so I am acting. Remmeber to do your own due diligence and speak to an accredited financial advisor.
G
Here are some excerpts from
Matt Badiali, editor, S&A Resource Report
:
It's Time to Get Long Junior Miners
Wednesday, February 1, 2012
Things are looking bullish for junior mining stocks...
Junior resource stocks are some of the riskiest, most volatile assets in the market...
...From peak to trough, the Venture Index lost about 45%.
Today, though, it looks like things are turning around... The Venture is up 16% over the last month. And it's crossed above its 120-day moving average – a simple trend indicator. I think this could be the beginning of another bull run in junior resource stocks. The conditions are perfect...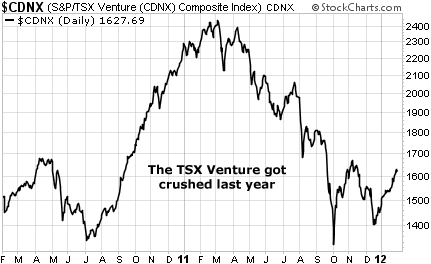 The long-term bull case for gold and silver is still intact. The U.S. and Europe still have huge debts and unfunded liabilities that can only be paid back with devalued paper money (which is bullish for precious metals). And the growing economies of Asia are still accumulating more gold each year.
But now, investors are tired of being afraid. And it looks like the world might not end... So some investors are dipping their toes into the risky pond again. The Venture Index is within spitting distance of breaking its November high at 1,670. Once it does, the rally is official...
Read full article here.